Cultural Wealth: Non-traditional Care Going Mainstream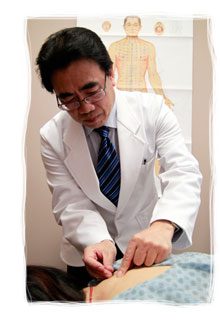 It is crowded inside Adam Chen's Markham AC99 acupuncture clinic. The waiting room is as diverse as the multicultural society that is Canada, with a wide spectrum of GTA residents all patiently waiting for Dr. Chen's healing needles.
But it wasn't always like this. Even twenty years ago, acupuncture and other types of alternative care were often provided from "underground," non-regulated facilities with no official records or reports. "Looking back 15 or 20 years, family doctors who prescribed acupuncture or certain herbal remedies could have been penalized by their college," Chen remembers. When his first clinic opened its doors sixteen years ago, the waiting room was filled mainly with newcomers from his home country of China, where acupuncture is widely accepted – although local people occasionally came searching for new approaches absent in Western medicine."Every kind of medicine has its limitations," says Chen. He believes Western medicine provides particularly meager relief from chronic conditions and pain, which affect roughly one-third of Canada's population and cost billions of health care dollars.
Because it stimulates the body's self-healing system, acupuncture works with conventional medical treatment to manage the symptoms of many diseases.
Where Western health care has failed to help, alternative approaches, often introduced by the cultures, traditions and medicine brought by the waves of newcomers redefining Canadian society, have filled the gaps."Our health care system was built to facilitate post-WW II demographics and has not fully accommodated to today's system requirements," stated Dr. Bill Coke, Vice Chair of the Ontario Medical Association's Section of Hospital Medicine at a recent conference. It's time to retune the system to the new environment to accommodate diversity and take advantage of the cultural wealth and knowledge foreign specialists are bringing in.
Adam Chen left a professorship at Heilongjiang Chinese Medicine University in 1983 to come to the University of Alberta, where he earned a master's and a doctorate in molecular biology and genetics. He then moved to Toronto to advocate for the health benefits of Traditional Chinese Medicine, with a vision of merging Western and Eastern approaches to medicine.Because it stimulates the body's self-healing system, acupuncture works with conventional medical treatment to manage the symptoms of many diseases. However, "I don't believe in acupuncture, it's all placebo," was the type of remark Chen heard plenty of at the beginning of his career in Canada in the late '80s and '90s. "The Canadian medical system is one of the most conservative in the world," he believes.
In 1997, Mayor Barbara Hall brought an avalanche of media attention to the opening of the new acupuncture program at The Michener Institute by lying under Dr. Chen's acupuncture needles in front of amazed journalists and sharing her impressions with cautious Torontonians. Still, when Chen founded the first acupuncture clinic at the Mount Sinai Hospital in 2000, it created an enormous stir. But ultimately the inclusion of Chinese medicine in a fully accredited hospital shot acupuncture into the mainstream of Canadian health care. In the face of Western skepticism and doubt, Chen began to gain recognition from a conservative Canadian medical establishment by "speaking their language," as he explains it – providing physical evidence and persistently documenting the effectiveness of his treatments. Patiently and deliberately demonstrating beneficial treatment and providing meticulous reports that showed high success rates, Chen brought the medical community onside. "I am grateful to these skeptics," says Chen, adding that some of them later became colleagues, patients and even friends.
As the founder of the first acupuncture programs at The Michener Institute, Mount Sinai Hospital and St. John's Rehab Hospital, Adam Chen is a true pioneer credited with introducing acupuncture treatment methods into the mainstream of Western health care. As a testament to his success, acupuncture is now an integral part of the rehabilitation treatment process – and is covered under most extended health care plans.When asked what would be the next non-traditional practice to enrich the mainstream of Canadian health care, Chen responded without hesitation: Tai Chi. The acceptance of Tai Chi is imminent, he believes, citing the many benefits Tai Chi can offer in conjunction with acupuncture and Western medicine. A recently published study in the New England Journal of Medicine by Tufts University School of Medicine shows that Tai Chi has a very promising and lasting effect on chronic pain management and fibromyalgia, as well as many other chronic medical conditions, when practised along with other rehabilitation approaches.
"Especially with limited funding, health professionals will have to equip themselves with more tools," predicts Chen, who believes communication and education are vital in understanding what different ethnic groups have to offer.Similarly, the public needs to be educated about the value and availability of other cultures' practices and practitioners. "It's a patient's choice," he says, "In the end, they will be choosing what works most effectively for them."
"We have more technology now, but our knowledge is very limited," says Chen. "Imagine a medical practitioner coming back in time from 200 years in the future. Our health care will seem like child's play."Adam Chen believes that combining Eastern and Western medicine is one way to understand more about life, our bodies, and the value of each treatment approach. He has demonstrated that multidisciplinary practice is all about working with other professionals, and that practitioners can expand their treatment skills, adapt other practices and be open to new approaches so as not to stay limited by one or two treatment methods. "Every medical professional in the future will be equipped with one tool and discipline, but will understand some of the others," he envisions. "That's the future of medicine."